This winter term 2023/24 we present to you our 10th round of RUSTlab Lectures. Come and join us for these exciting talks and discussions around this term's guiding theme Best Futures on five Thursdays in the winter term – online and on site. The lectures take place 14-16 hrs / 16-18 hrs German time (see the poster below).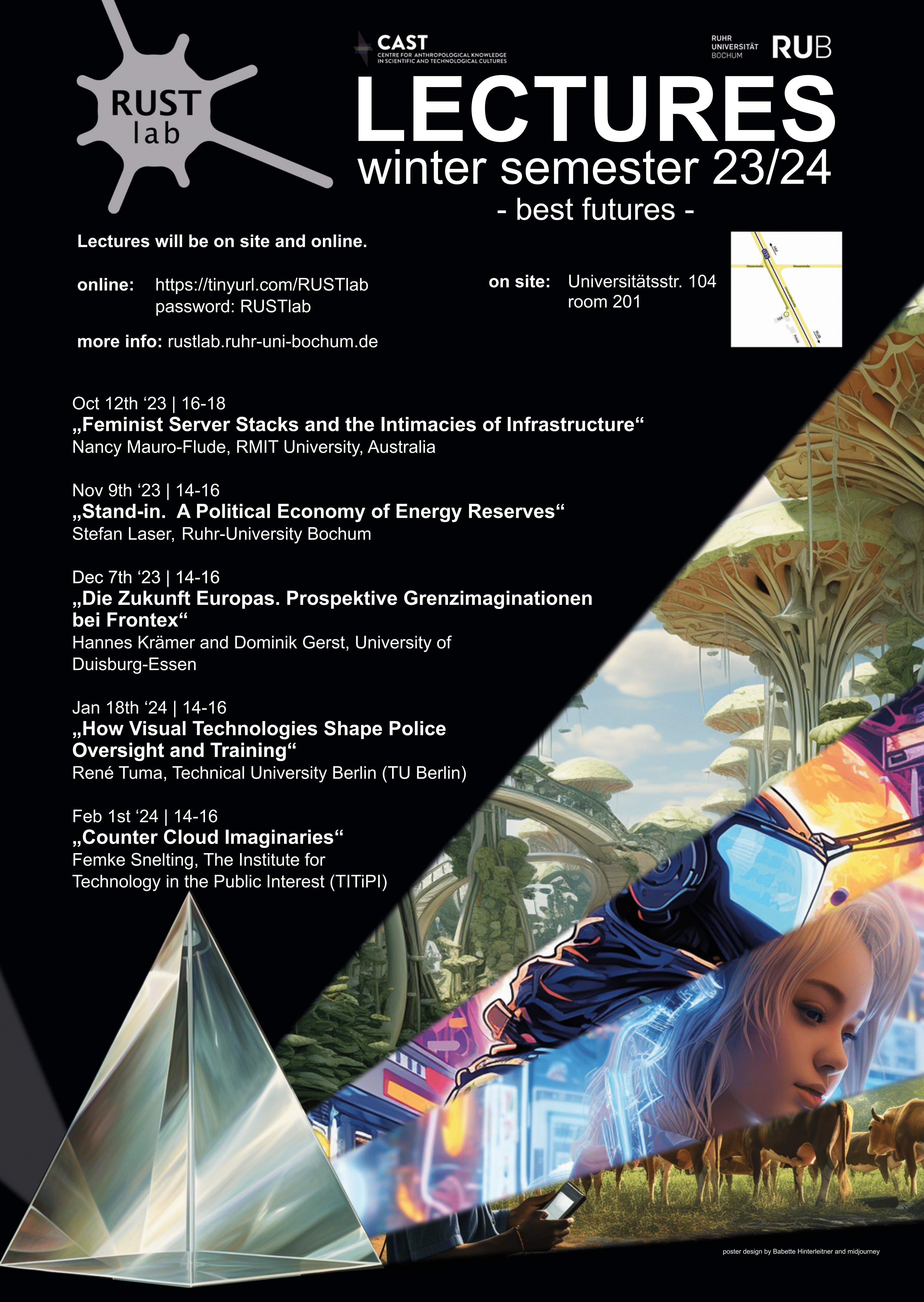 Address: Universitätstr. 104, 44799 Bochum, Room 201
Zoom Link for the meetings
Password: RUSTlab

Best Futures
What does the future look like?
Yours?
Ours?
Possible futures are plural, but not all are equally good.
What do best futures look like?

The topic of the 2023/2024 term RUSTlab Lectures "best futures" presents a paradoxical blend, merging the superlative best, which sets values and claims singular superiority, with the plurality of futures, which remain unknown and full of indeterminacies – a topic the RUSTlab lectures attended to last term.

There are bigger-better-faster futures, business-as-usual futures, futures of technological innovation and futures of a damaged planet. What are our dreams and aspirations for the best future? What do we fear or dread? Which legacies must be trialled, tested or secured? What dilemmas should we engage with, when best futures are at stake? What responsibilities do we carry for those who come after us? What skills are needed to build futures and how do we train them? Who owns futures and how are they distributed? Which (planetary) resources of and for future-making are of concern?

These questions posed in this semester's RUSTlab Lecture theme demand both speculation and pragmatism. Thinking about best futures is not a futile task, it invites cautious hope, not naïve to the damages already done, nor passive in engaging with the challenges ahead. Best futures try; they might fail; they will be exposed and put at stake. Our way to address what is yet to come is through questions of speculative formulations of how futures can become best.

In the winter term 2023/2024, we have invited speakers to reconcile with the making of best futures: Nancy Mauro-Flude explores intimate ways of relating with data servers, to experience otherwise ephemeral and illusive digital data. Stefan Laser unfolds contemporary processes of energy planning, where energy resources become interchangeable entities to be swapped out and stand in for one another. Hannes Krämer and Dominik Gerst explore the future-making of Europe in policy documents employed to predict future border conflicts by European law enforcement agencies. René Tuma investigates visual technologies employed in German law enforcement and how they shape police practice and training. Finally, Femke Snelting ends the lecture series with perspectives on designing alternative data infrastructures drawing on Feminist STS.

See you there, and welcome!

Download the PDF file of this text.
For more information, including PDFs and posters of previous lectures, visit here.