This summer term 2023 we present to you our 9th round of RUSTlab Lectures. Come and join us on-site at the RUSTlab in Bochum or tune in live via ZOOM, Thursdays from 14-16 hrs / 16-18 hrs German time for exciting talks and discussions around this term's guiding theme: Infrastructuring Indeterminacies.
Infrastructures provide stability and determination. Or do they? What happens if we look in a different direction at where and at how infrastructures can be indeterminate and facilitate what is new, unexpected, contingent, breaking down, and barely even possible?
This term, the RUSTlab Lectures will engage in thinking about infrastructuring alongside indeterminacy. Infrastructuring indeterminacy and intdeterminate infrastructures are dynamic processes of excess and overflows. By relating the two concepts to each other, we hope to raise questions about how to find ways to live with indeterminacies in a complex world. Can indeterminacies be infrastructured? Should they? Which ones?
List of the speakers for the winter term 2022/2023:
06.04.2023, 16-18 hrs Julie Sascia Mewes (Ruhr University Bochum) and Frauke Rohden (University of Oslo, CAIS Bochum): Timing Devices in Academia
20.04.2023, 14-16 hrs Phoebe Sengers (Cornell University): Time on the Edge of Infrastructure
04.05.2023, 14-16 hrs Laura Kocksch (TANTlab, Aalborg University Copenhagen): Fragile Computing – When Digital Security is Beyond Repair
22.06.2023, 14-16 hrs Andrey Korbut (Centre for Advanced Internet Studies, CAIS): Robotic Technoperformances: Interactional Indeterminacies in Public Appearances of Anthropomorphic Robots
06.07.2023, 16-18 hrs Lindsay Poirier (Smith College): Juking the Stats: Ethnographies of Disclosure Datasets
Download this PDF with a detailed description of our summer 2023 guiding theme.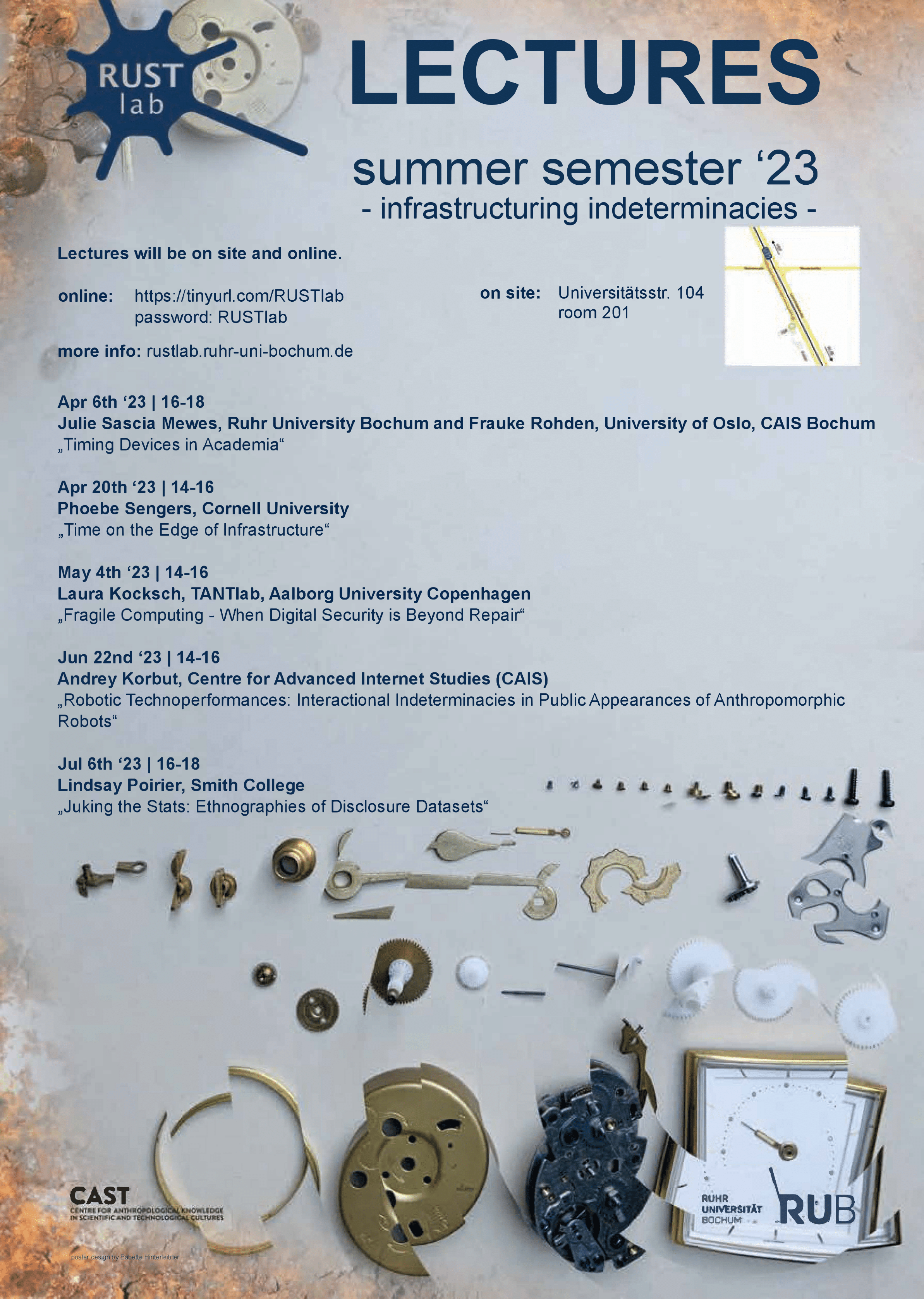 All lectures will be on-site at the RUSTlab as well as live on ZOOM, Thursday from 14-16 hrs / 16-18 hrs German time.

Address:Universitätstr. 104, 44799 Bochum, Room 201
ZOOM: https://tinyurl.com/RUSTlab
Password: RUSTlab
Download PDF files of previous lecture posters
RUSTlab Lectures – winter term 22/23
RUSTlab Lectures – summer term 2022
RUSTlab Lectures – winter term 21/22
RUSTlab Lectures – summer term 2021
RUSTlab Lectures – winter term 20/21
RUSTlab Lectures – summer term 2020
RUSTlab Lectures – winter term 19/20